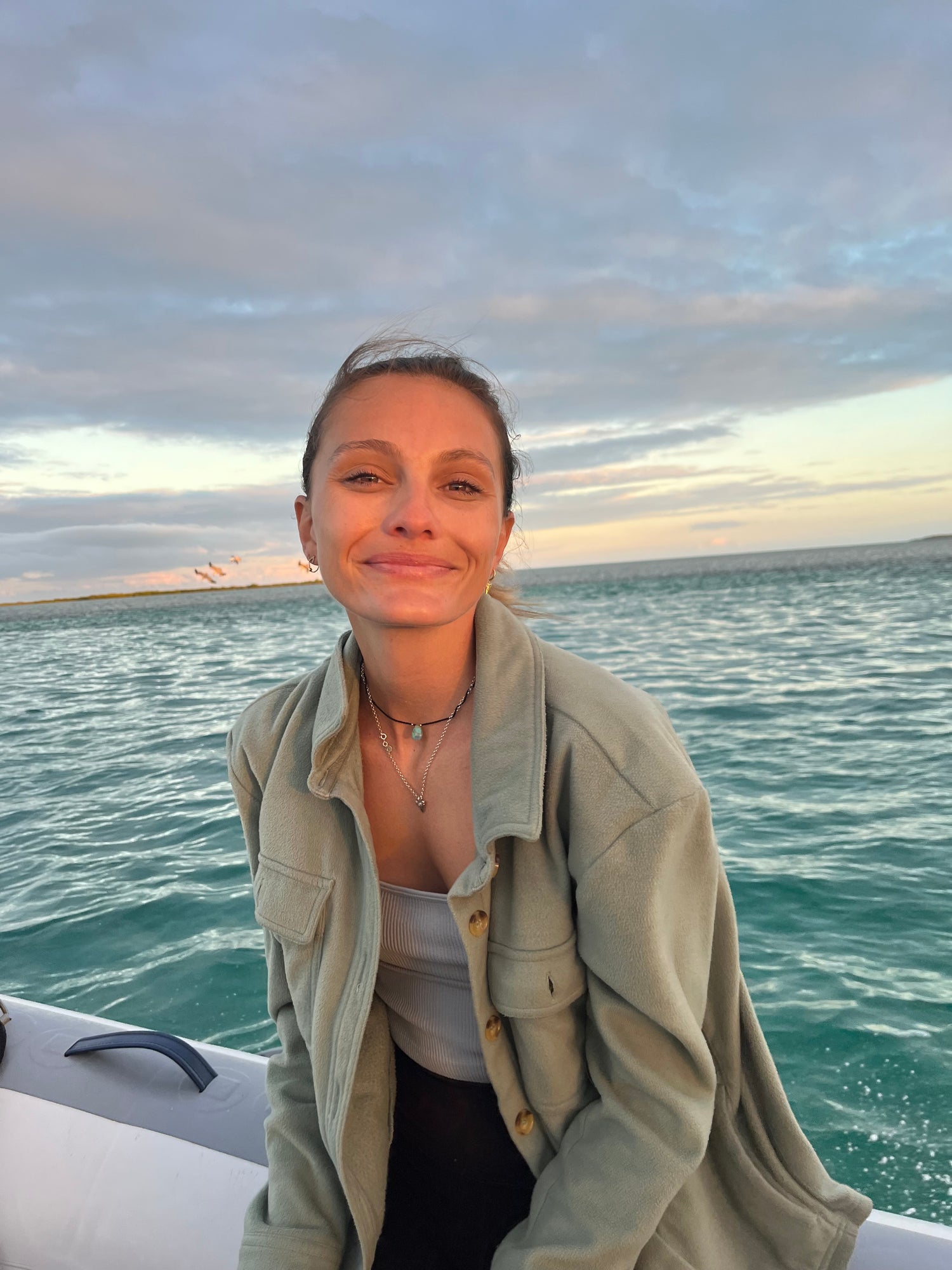 A letter from the founder
Hey there, ocean souls!
I'm Hannah, also known as @simplyhannah, the wild-hearted founder and CEO of Hulya Swim.
To me, Hülya is the essence of the salty waves and our beloved planet. It's not just some brand. It's a call to dive deep, break free from your comfort zone, and embrace new experiences. It's an invitation to wander and explore this mind-blowing world we all hold dear. Now, I'll be real with you—I can't stand being cooped up, doing the nitty-gritty work required to run this brand. But I've witnessed how it ignites passion in others, inspiring them to nurture our planet and go on awe-inspiring adventures.
Take a moment, vibe with Mother Earth, my friends. Let Hülya be the catalyst that sparks questions about the origins of your clothing. Consider your choices and ponder alternatives. Whether it's a one-time splurge or an investment for the future, ensure the companies you support align with ethical practices and transparent sourcing of materials.
My vision for this brand? A constant reminder of how each of us can become better guardians of our precious planet.
Together, we're cleansing the ocean, one bikini at a time. The choice is yours—will you stand with the planet?
Shop My Favorites
Hülya Swim: An Ocean-Saving Vision
At Hülya Swim, we believe in the beauty of sustainable fashion. By utilizing eco-friendly fabrics and recycled materials, we craft pieces that seamlessly blend functionality and style. Our swimwear is predominantly made from post-consumer recycled plastic bottles, sourced from local beaches, transforming ocean waste into essential accessories.

Founded by ocean enthusiast Hannah Patten at the age of 24, Hulya Swim is driven by the vision of a cleaner ocean, which is reflected in its name "Hülya," meaning daydream. The company was born to cater to explorers, lovers of nature, the confident, and the daring. We exist for those who cherish the salt water, the sand, and the thrill of adventures, all while working towards a better ocean and striving to fulfill a dream.

Our unique process involves collecting plastic water bottles found along coastlines. These bottles are broken down into small flakes, melted into pellets, and then spun into threads after further melting and filtering. Through a zero-water sublimation technique, we set new standards in producing sustainable swimwear. At Hülya Swim, our commitment goes beyond crafting fashionable bathing suits; we take pride in safeguarding our precious ocean. Each piece of our swimwear contains up to 30 recycled plastic water bottles, as we continually explore innovative ways to preserve our planet.

The pressing reality is that humans are generating an unprecedented amount of plastic waste, and sadly, only a fraction of it is recycled. Recognizing this problem, Hülya Swim takes its responsibility seriously and aims to contribute to a positive change. Our future focus lies in recycling plastic water bottles and transforming them into stunning and functional swimsuits, playing our part in creating a more sustainable tomorrow.